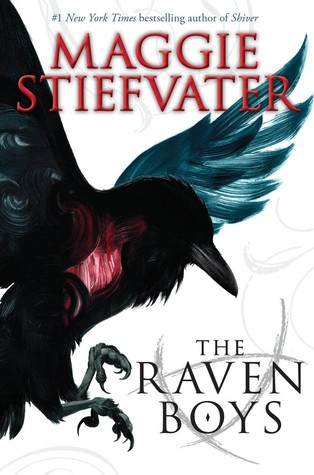 © Scholastic Press
Audiobook (German)
Information on the book
Hardcover
publisher: Scholastic Press
published: 2012
pages: 416
Blurb:
Every year, Blue Sargent stands next to her clairvoyant mother as the soon-to-be dead walk past. Blue never sees them–until this year, when a boy emerges from the dark and speaks to her.
His name is Gansey, a rich student at Aglionby, the local private school. Blue has a policy of staying away from Aglionby boys. Known as Raven Boys, they can only mean trouble.
But Blue is drawn to Gansey, in a way she can't entirely explain. He is on a quest that has encompassed three other Raven Boys: Adam, the scholarship student who resents the privilege around him; Ronan, the fierce soul whose emotions range from anger to despair; and Noah, the taciturn watcher who notices many things but says very little.
For as long as she can remember, Blue has been warned that she will cause her true love to die. She doesn't believe in true love, and never thought this would be a problem. But as her life becomes caught up in the strange and sinister world of the Raven Boys, she's not so sure anymore. (Amazon)

In Very Short:
+ ley lines, ghosts, premonitions and supernatural occurrences
+ divers group of characters
– the narrative pace was to bumpy and the story did not captivate
My Opinion:
This first installment of the The Raven Boys Cycle introduces the main characters – the Raven Boys – Blue and the search for ley lines and the power that those hold. Not only do they discover some strange, supernatural occurrences, the truth about the past and one of their group, they also get caught up in lots of emotions and future destinies.
It was an interesting story, with a well-developed and even paced story line, which was partially solved towards the end yet left many open questions for future books. Still, at different points in the narration, it felt halted and slowed down before it picked up again. The premise was interesting, yet it lacked the ability to captivate me.
The characters are a divers group of people, most of them being exposed to future troubles and possible destinies yet all determined to fight those visions. The story was already hinting at some kind of love triangle problem – that I am not that thrilled about, but that was not foregrounded either.
The writing was melodic and easy, yet also quite slow. Sometimes attempting to be poetic and thus taking attention away from the narration. It did not add to the story, but it might have been a problem due to the translation.
Bottom Line:
It was a good book and an interesting story line, yet I am not sure whether I should give the English version a try. At this point I am not sure I want to continue the German one either.